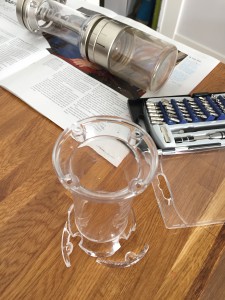 A few weeks ago I was moving office at work and I had brought my Lido 2 grinder with me to the new desk. As I needed to plug several cables at the back of my LCD screen, I rotated it around and the screen pivoting had pushed the Lido 2 down from the desk. Fearing that the bean catch jar had broken, I looked down and I was happy to see that it was still intact. Then I saw that the plastic bean hopper had cracked when it fell. Even though this was sad, I knew that the Lido 2 was made for being taken apart and fixed.
I went to Orphan Espresso's webshop and unfortunately the bean hoppers were set to out of stock. When I asked them about it on twitter, it turned out that they were actually in stock but weren't listed as such in the webshop for some reason. After about a week's wait, it came in the mail. Being at home on holiday, I didn't have the tool that came with the Lido 2 to take it apart. Thankfully I have a tech tool from ifixit I bought some years ago that has the same bits, so I used that and got my Lido 2 repaired. The Lido 2 comes with handly little edges that makes it very clear which part goes where. Taking this machine apart is a breeze and putting it together again is just as easy.
Thanks guys for making such an awesome grinder!